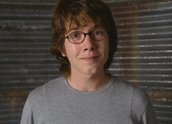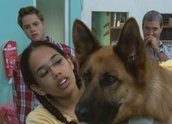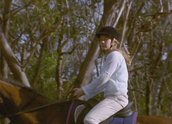 Out There – Two Down Under (2002)
Synopsis
In small-town Wollemi, teenager Miller (Richard Wilson) observes two overseas newcomers arriving at the vet clinic next door. Reilly (Douglas Smith) is a reluctant refugee from his wealthy family's troubles in America, while UK-born Aggie (Jade Ewen) is starting her internship. Aggie is delighted to assist the vet, Reilly's aunt Ellen (Genevieve Hegney), in a procedure involving a constipated dog while Reilly is appalled. Miller admires Aggie from afar and invites Reilly to his hangout where he fills him in on life in Wollemi. Aggie observes Reilly suddenly developing an interest in animals when local teenager Fiona (Molly McCaffrey) arrives with an injured joey.
Curator's notes
This first episode of Out There establishes the main characters, their complex backstories and life in rural New South Wales. It is told in large part through the perspective of eccentric local boy Miller who, by his own account, operates 'outside the box'. The series combines an array of both native and non-native animals with character-driven stories led by a strong international ensemble teenage cast. Insight into the characters is enhanced through the use of direct-to-camera monologues.
Out There is a co-production involving Sesame Workshop and Noggin from the US, Britain's BBC and the Australian Broadcasting Corporation. Out There's executive producer for the ABC, Claire Henderson, spoke to australianscreen about the challenges of international co-productions:
You have to make sure that in the end it feels Australian for Australian kids. That is terribly, terribly important … You have to face the reality that if you are in a co-production, the other parties have to have something.
Now this actually naturally worked with Reilly being the American and Aggie coming over from Britain. But you have to make sure also that Australia is represented as something that Australian kids can relate to and not some sort of false identity that might suit the other partners. And that's always something that's quite difficult to balance.
Other children's television co-productions made around this time include Foreign Exchange (2004, set in Ireland and Australia) and Noah and Saskia (2004, set in Australia and Britain). Don't Blame the Koalas (2002), made by Southern Star with an Australian and UK audience in mind, has a penniless English family inheriting an Australian wildlife park. Kangaroos and koalas and other exotic Australian fauna have proved an irresistible draw to producers and audiences ever since Skippy (1966–69) became a worldwide hit. Young Ramsay is a TV show centring on the life of a country vet aimed at a family audience (see Young Ramsay – Natural Selection, 1979).
Out There was first broadcast in Australia on the ABC on 10 February 2003. It also screened in the US, Britain, France and Germany. Twenty-six episodes were made over two series, and Two Down Under is the first episode of series one. The program won the AFI Award for Best Children's Television Drama Series in 2003 and the Logie for Most Outstanding Children's Program in 2005.