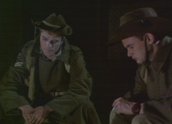 Rusty Bugles (1980)
Synopsis
Rusty Bugles follows a group of soldiers posted to a remote base in the Northern Territory during the Second World War.
Curator's notes
Rusty Bugles has a significant history as a stage play. Written by Sumner Locke Elliott, it premiered at Sydney's Independent Theatre in 1948 and was promptly banned by the NSW Chief Secretary, days after it opened. It depicts a Waiting for Godot-style situation in which nothing much happens, and that is precisely the point. Rusty Bugles, however, pre-dates the premiere of Samuel Beckett's play by five years and is more naturalistic in style.
It is not openly critical of the war itself but nonetheless creates a vision of pointless army bureaucracy and men's lives devastated by long periods in isolation. This was not what got the stage play into hot water. According to a report in The Sydney Morning Herald on 23 October 1948, the play was banned for obscenity – because 'blasphemous and indecent words were used freely in the dialogue'. This prompted a flurry of letters and articles in the press, including from the Arts Council of Australia protesting that 'all works dealing with life under the direct impact of war are necessarily expressed in the language men adopt in war'.
The ban was lifted after four days, after the director of the Independent Theatre, Doris Fitton, had 'undertaken to eliminate all blasphemous and objectionable references'. The Age reported on 27 October 1948 that the play prompted questions to be raised in Commonwealth Parliament as to whether an Australian literary authority should be introduced to deal with censorship issues. A year later, on 19 August 1949, Rusty Bugles was again in the news, with The Age reporting that it would premiere in London's West End – 'probably the first play by an Australian, with a purely Australian theme and idiom, to have won West End presentation as a result of successful productions in Australia'.
Watching the 1980 telemovie now, it takes some effort to perceive the freshness of Rusty Bugles for 1948 audiences with a very recent memory of wartime. Its 'obscenity' barely registers. The Australian idiom – expressions like 'you pack of galahs' – is dated. What commentators called honesty in the portrayal of Australian troops now reads almost as caricature.
This ABC in-house production has a studio feel and not much use of locations, retaining the quality of a stage play. The focus on not much happening and the static quality of the staging are quite hard calls for television, though in the '40s the stage play's absurdist qualities and circular narrative were cutting edge. It is unusual to see these qualities in a drama; on TV we most often see absurdity in the context of comedy. It bears comparison with comic war satires like Joseph Heller's novel Catch 22 (1961) and Robert Altman's feature film MASH (1970) in its focus on the way soldiers cope with boredom, army bureaucracy and the futility of war.
Rusty Bugles was produced at a time when a greater percentage of the ABC dramas – such as All the Green Year (see All the Green Year – Episode 2, 1980) and I Can Jump Puddles (1981) – were produced entirely in-house; single TV 'plays' were more common and there was a stronger emphasis on adapting classic stage plays and novels. Things changed when Sandra Levy became ABC Head of Drama in the mid '80s – there were more collaborations with independent production companies, a greater emphasis on international pre-sales and other external funding, and more ongoing series and populist formats like cop and medical series (see Come In Spinner, 1989; Police State, 1989; and Police Rescue, 1991–96).