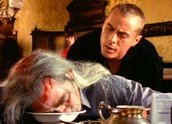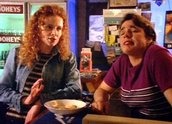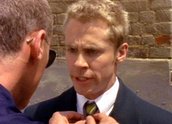 Good Guys Bad Guys – Car Wars (1998)
Synopsis
Elvis Maginnis (Marcus Graham) has found love in the form of bombshell lawyer Carmen Francis (Belinda McClory). There's one small complication: she's taking his dry-cleaning business to court on behalf of a disgruntled customer. A conflict of interest? Elvis doesn't see it that way but his employee Stella Kinsella (Alison Whyte) isn't so sure. She decides to investigate the matter herself. Meanwhile, Carmen's husband shows up dead and Elvis becomes an accidental detective yet again.
Curator's notes
Unlike the police stations, law firms and hospitals particularly beloved of television drama, a dry-cleaning business does not immediately suggest itself as the kind of setting where dramatic stories 'walk in the door'. But in the tradition of amateur sleuths such as Agatha Christie's Miss Marple, Elvis Maginnis, proprietor of K for Kleen, can't seem to stop stumbling across bodies and crimes.
Good Guys Bad Guys provides plenty of extra reasons for this to happen. There's Elvis's large extended family of criminals and shady types, his past in the police force, his taste for femme fatales and doomed romances, his sense of natural justice and his inability to say no to someone in need. For good measure, K for Kleen is in a neighbourhood of colourful characters and Elvis has two employees with their own pasts and families.
Stella Kinsella and Reuben Zeus (Travis McMahon) are supposedly just drycleaners but inevitably help Elvis with his unofficial detective work. In this way they are reminiscent of comic book superhero sidekicks. In 'Car Wars', screenwriter Chris Hawkshaw utilises both characters to good effect. Maginnis's past in the police force is also used to create entertaining dialogue when Elvis locks horns with his old colleagues. Hawkshaw won an AWGie Award for this episode.
Belinda McClory appears to relish her turn as the lover who drags Maginnis into this episode's mess, with costume designer Monica O'Brien having fun with her femme fatale qualities. The 'Car Wars' soundtrack features bands Custard and the Dumb Earth, as well as singer Robin Lau.
'Car Wars' is episode two of series two of Good Guys Bad Guys and was first broadcast on 7 April 1998 on the Nine Network.