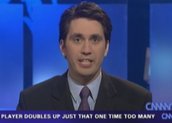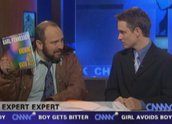 CNNNN: Chaser Non-stop News Network – Lunchgate (2002)
Synopsis
CNNNN: Chaser Non-stop News Network is a fictional 24-hour Australian news channel mimicking the formats of shows like US television's CNN and Fox News. The show is presented as an 'interruption' in the ABC's usual programming, to cross 'live' to CNNNN for some breaking news. It parodies Australian and international media culture, politics and current affairs. As well as studio segments, CNNNN includes fake ads, vox pops and satirical pranks.
The leading story in this episode is a police chase, broadcast live as it unfolds.
Curator's notes
CNNNN was the Chaser team's second TV series. The Election Chaser (2001) and later incarnations The Chaser Decides (2004 and 2007) mimicked television 'tally room' election coverage during the 2001, 2004 and 2007 federal elections to take a satirical look at politics. Similarly, CNNNN hijacks a 'serious' format for the purposes of satire, this time with tabloid news media as its primary target. In parodying specific news formats, these shows have a closer focus than the variety format the Chaser team adopted for The Chaser's War on Everything (2006–09).
CNNNN parodies sensationalism and bias in tabloid news programs and in media culture more broadly. Each episode follows a 'leading story' that allows a dig at sensationalist tactics, hyperbole and the creation of 'events' by the media. This is a world of news reportage where, according to CNNNN's own tagline, 'opinion matters more than fact'.
In this episode, CNNNN crosses to Los Angeles to report live on a police chase as it unfolds. The team breathlessly relays each new development – no matter how minor – and presents a string of dubious experts and witnesses to gain extra mileage from the story. In a running joke, most of these interviewees are cut short before they have the opportunity to say much (see clip two). Media bias and gravitation towards pet topics are lampooned as the news crew search in vain for a terrorist angle (clip one) and later rope in an Australian witness – who wasn't actually there – in order to run a story on the 'Australian connection'. 'Lunchgate' uses finely tuned satire to give sensationalist reportage a caning.
Like The Election Chaser (2001), CNNNN was executive produced and script edited by Andrew Denton, himself an old hand in turning a comic lens on serious matters, for instance in talk and variety show The Money or the Gun (see The Money or the Gun – Heroin, 1989). Denton had become interested in the group after seeing their first collaboration, The Chaser satirical newspaper.
A number of current US 'news desk' satires have also responded to perceived conservative bias and sensationalism on programs like Fox News (1996–current), including the very popular The Daily Show with Jon Stewart (1996–current) and The Colbert Report (2005–current). See The Gillies Report (1984–85) for an earlier Australian example of news satire.
CNNNN aired on ABC television in 2003 and 2004, running for two seasons and a total of 19 episodes. In 2004, CNNNN was joint winner of the Logie Award for Most Outstanding Comedy Program with Kath and Kim (2002–current).