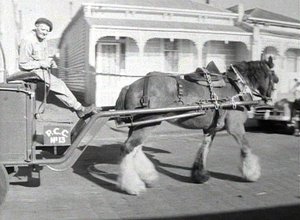 The Sydney Royal Easter Show kicks off 10 April, so we're looking at film of agricultural shows on our homepage.
Featured is footage of shows in Sydney, Melbourne and Brisbane, dating from the 1920s through to the 60s. We've also included the Milk Board of NSW's White River of Life, which screened at the Royal Easter Show in 1950.
Professor Joanne Scott, author of Showtime: A History of the Brisbane Exhibition (2008), has researched agricultural shows as places 'of work and leisure, education and entertainment'.
She surveys how they have been captured on film – in home movies, short documentaries and newsreels.
Read Joanne Scott's essay about Agricultural shows on film.