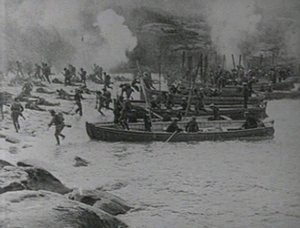 There is no film footage of the Australian troops landing at Gallipoli on 25 April 1915 because there was no war correspondent with a film camera present to capture it.
The closest we have is a filmed re-creation on Tamarama Beach in Sydney, shot within two months of the real event and preserved in a later, amateur dramatic feature.
'The older that footage gets, the more real it becomes. It has been used often in documentaries to illustrate the Gallipoli landings, almost never with any explanation that it is a re-creation based, at best, on shaky sources.'
Paul Byrnes outlines the intriguing story of this footage and how it came to survive, in his curator's notes for The Spirit of Gallipoli (1928) and his collection essay Gallipoli on Film.
See all titles on ASO tagged Anzac.