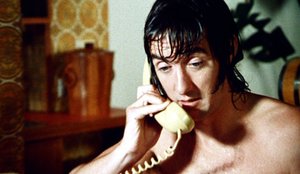 Paul Byrnes takes a look back at the evolution of Australian comedy on film, from the silent era's Sentimental Bloke through to Mick 'Crocodile' Dundee in the '80s:
'[MIck Dundee] was an astonishingly clever creation, who seemed completely new. He wasn't quite that, as we have seen. He was the distillation of all the comedy that came before him, almost a compendium of his roots in the working-class heroes of silent film.'
Image: Graeme Blundell in Alvin Purple (1973).
Go to Australian Comedy Part 1: The Silent Era »
Go to Australian Comedy Part 2: The Early Sound Era »