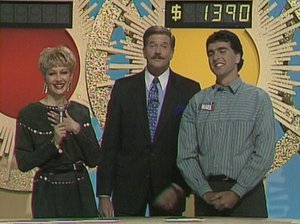 There's something for everyone in our recently published selection of game shows from the last 30 years.
Watch vintage Wheel of Fortune, featuring the dynamic team of 'Baby' John Burgess and Adriana Xenides. Bert Newton hosts the 1980s talent show New Faces, a forerunner to today's The X Factor and The Voice.
Who Wants to be a Millionaire? revolutionised the look and feel of general knowledge-testing game shows in the late 1990s, and even inspired the Oscar-winning Slumdog Millionaire (2008).
RocKwiz, hosted by the irrepressible Julia Zemiro, has been on SBS since 2005. See how the show began with clips from the first episode.
We've also got the 1960s and '70s covered with It's Academic and Barry Jones on Pick a Box.
See all game shows on ASO.