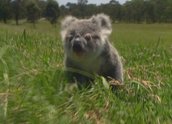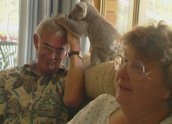 Yindi: The Last Koala? (1996)
Synopsis
This docu-drama follows Yindi, a koala on Australia's east coast. Yindi is still a tiny baby in the pouch when his mother is injured in a car accident and he must be hand-reared. After mother and baby are returned to the wild, the effects of a bushfire once again put Yindi back in human care. Bev and Bob Birtles raise Yindi and prepare him for his second return to the wild as an independent adult. Narrator Greg Grainger introduces us to the many threats facing koalas including urbanisation, cars, dogs and the disease chlamydia. We meet a network of carers and organisations doing what they can to improve the odds of koalas surviving.
Curator's notes
The modern-day koala faces serious threats to its survival but at least doesn't have to try as hard as, say, the endangered Tasmanian freshwater limpet to get our attention. Koalas are so cute you could point a camera at them doing nothing and still have the foundations of a TV show. This is just as well, since a koala's enviable lifestyle involves spending most of its time sleeping and eating. Yindi: The Last Koala? shows koalas being cute in all sorts of ways: trying to eat people's hair, climbing curtains, and clinging to their carers while they do the housework, as though they were trees. If that's not enough, wait for the moment when Yindi plays with an orphaned sugar glider.
Yindi: The Last Koala? also has a serious message and some heartbreaking scenes of koalas in distress (see clip two). When Yindi is finally returned to the wild, the filmmakers choose an upbeat tone, going as far as framing Yindi against the sunset to make the point that he might survive, despite the obstacles. Ultimately though, whether Yindi is departing into the sunset, or the sun is setting on Yindi and his kind, is left for the audience to consider – in keeping with the show's conservationist theme.
Yindi: The Last Koala? is a docu-drama in that it recreates, rather than observes, the life of Yindi and his mother before they were in human care, presumably using footage of a few different koalas gathered by producer-presenter Greg Grainger and his team over their extended filming period. This dramatised narrative bookends a production that otherwise consists of more straightforward reportage, introducing us to a number of other koalas and their carers as well as giving general information about the species. Grainger, a former news presenter, makes selected appearances on screen but mostly presents using a voice-over.
Grainger TV is a Sydney production company that has produced over 100 hours of television documentaries, mostly with a travel, adventure or wildlife focus. Their programs have screened in Australia in the Seven Network's World Around Us documentary timeslot, and on pay TV around the world on the Discovery and National Geographic channels.