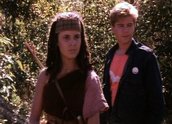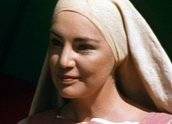 Winners – Quest Beyond Time (1985)
Synopsis
One day, while hang gliding, Mike (Daniel Cordeaux) is transported 500 years into the future. There, he is asked to help a primitive pagan community to cure thteir sickness. They need him to fly to get a cure from a group of wise women on an island isolated by a sea of nuclear waste. Reluctantly, Mike agrees to help and with Katrin (Rebecca Rigg) of the Clan Murray, he sets out on a dangerous quest through a savage land.
Curator's notes
Very much a film of its time, Quest Beyond Time is a story of an Australian post-nuclear dark age, following the failure of earth's civilisation. Simply told, and not too frightening, it shows the changes that could occur in the world if a nuclear war takes place. Popular with children in the 1980s, the costumes and special effects have not travelled well but the story itself raises many still relevant questions.
First broadcast in September 1985 on Network Ten.