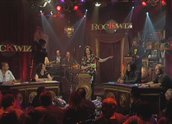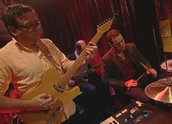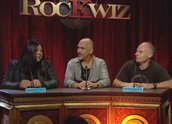 RocKwiz – Series 1 Episode 1 (2005)
Synopsis
Recorded in Melbourne's legendary rock headquarters, the Espy (the Esplanade Hotel in St Kilda) and hosted by Julia Zemiro and Brian Nankervis, RocKwiz mixes live music, trivia, celebrity guests and a pub audience. Musical clues are provided by The RocKwiz Orkestra (Peter Luscombe, James Black and Mark Ferris) who also back the performances of two 'mystery' musical guests: in this episode, Christine Anu and Joe Camilleri. Over a half hour, two teams each anchored by these guests along with contestants selected from the audience, attempt to answer four rounds of rock trivia. As a grand finale Christine Anu and Joe Camilleri perform a duet backed by the RocKwiz Orkestra.
Curator's notes
A rare foray into the game show genre by Australia's multicultural broadcaster SBS, RocKwiz takes the pub-style music trivia night to a national television audience. RocKwiz never takes itself too seriously. In contrast to studio-based game shows, the design is relaxed and intimate with minimal separation between audience and action. The hosting style is controlled chaos, there are no prizes to be won and the scoring is haphazard at best. Centred on musical knowledge, a pre-recorded preliminary round 'Ready Steady RocKwiz' selects four contestants from the audience who are then introduced via host Julia Zemiro's question about the first album they ever bought.
Four further rounds follow with each segment title including a famous musical reference. 'Ready Steady Go!' refers to a British pop music show from the 1960s. 'Who Can it Be Now' is a Men at Work song from 1981. The 'Local and/or General' knowledge round owes its name to a Models album from 1981 and the 'Master Blaster' round's title and theme music is from Stevie Wonder's 1980 song of the same name. Final playoff 'Furious Five' is named for American group Grandmaster Flash and the Furious Five.
Much of the success of the program can be attributed to the relaxed presenting style and humour of host, Julia Zemiro. A graduate from the Victorian College of the Arts and a Theatresports veteran, Zemiro has worked with the Bell Shakespeare Company, won the Tropfest Best Actress award twice and regularly appears in the Melbourne International Comedy Festival. Co-host, dodgy scorekeeper and the program's co-creator Brian Nankervis also made regular appearances on Hey Hey It's Saturday from 1986 as the tortured street poet Raymond J Bartholomeuz as well as writing Boys and Balls (1994) and writing and appearing on Let the Blood Run Free (see Let the Blood Run Free – Episode 2, 1990). Brothers Joe and Ken Connor of Renegade Films are executive producers on another offbeat SBS hit, Wilfred (2007-2010).
Episode 1 of RocKwiz aired on SBS on 31 January 2005 and continues to be broadcast on Saturday nights at 8.30 pm. At the time of writing there have been more than 150 episodes, three national tours and a number of musical specials including RocKwiz Salutes Vanda and Young (2014). One of the few original game show formats on Australian TV, RocKwiz has a loyal cult following and has also spawned CDs, DVDs and books.
RocKwiz was nominated for the AFI (and later AACTA) Award for Best Light Entertainment Television Series in 2005, 2006, 2008, 2009 and 2011, and won the award in 2007.