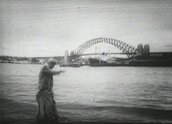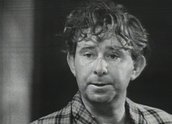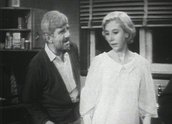 My Name's McGooley, What's Yours? – End of the Line (1967)
Synopsis
My Name's McGooley, What's Yours? is a black-and-white sitcom centred on a family living in Balmain, a harbourside suburb of Sydney's inner-west that was at the time considered barely a cut above a slum. In this episode, Wally Stiller (John Meillon) insists the household go on an economy drive which, according to him, means that everyone else should stop spending money on 'luxuries' like clothes and cornflakes while he, as the breadwinner, continues to enjoy his beer. His insensitivity toward his wife Rita (Judi Farr) prompts father-in-law Dominic McGooley (Gordon Chater) to hatch a plot designed to introduce a bit of healthy jealousy into Rita and Wally's marriage.
Curator's notes
My Name's McGooley, What's Yours? was Australia's first successful homegrown commercial television situation comedy; homegrown in the sense that almost all the creative and technical talent involved was Australian. However, writer-producer Ralph Peterson first created the show while working in the UK and offered it to the British network ITV, who passed on it. When ex-patriot actress June Salter returned to Australia to appear in The Mavis Bramston Show (1964–68), it was suggested that her husband, John Meillon, who at the time was one of the stars of the British J Arthur Rank film stable alongside Richard Attenborough and John Mills, would also return if a suitable vehicle could be found for him. Peterson adapted the original concept to Sydney and Meillon accepted the role that set him on the path to becoming one of Australia's favourite sons.
The British origins of McGooley are evident in the influence of two outstanding British sitcoms of the era, Steptoe and Son (1962–74) and 'Til Death Us do Part (1965–68). Steptoe is a forerunner of Chater's more lovable McGooley and there are touches of Harry Steptoe's aspirations and self-delusion in Meillon's Wally Stiller. Self-important, chauvinistic, vain, but deep down a decent bloke and somehow innocent, Meillon's performance is a standout of the show. He is well matched by Judi Farr as his wife, Rita, fulfilling the role of simple, downtrodden housewife. Chater's McGooley was the linchpin of the series: creator of chaos, the troublemaker, pest and thorn in his son-in-law's side. The regular cast was filled out by Stewart Ginn as McGooley's fishing mate and partner-in-crime and Noeline Brown (who joined around Episode 29) as Wally's divorced, sophisticated and liberated sister, providing some glamour and a stark contrast to the domesticated Rita.
A visual stroke of genius was the selection of Balmain as the location for the series (see clip one). Most of the action took place inside the Stillers' home; a single major interior setting remains the norm for sitcoms today. Ralph Peterson not only wrote but produced every one of the 88 episodes of the series at the rate of about 40 a year. Despite the large output, with episodes like End of the Line the show became that rare creation: a situation comedy that also succeeds dramatically. It helped paved the way for later Seven Network comedy successes like Kingswood Country (1980–84, see Kingswood Country – Series 1 Episode 19) and Hey Dad..! (1987–91, see Hey Dad..! – The Double Date, 1989).
End of the Line is episode 33 of My Name's McGooley, What's Yours? The program premiered on the Seven Network in September 1966. It ran for 88 episodes, ending in 1968 when Gordon Chater left the show. It won a Logie Award for Best Comedy Series in 1967. A sequel – Rita and Wally – with the same core cast and crew (minus Chater) followed quickly in 1968 and ran for 23 episodes.