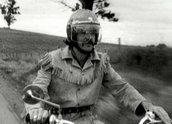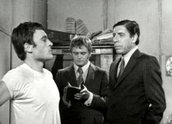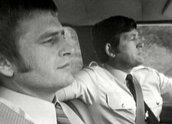 Matlock Police – Episode 1, Twenty-six Hours (1971)
Synopsis
A group of hippies on a road trip arrive in the country town of Matlock just as a frightening chain of events takes place. First, town matriarch Miss Falconer (Sheila Florance) is robbed and left for dead in her home. Then young Jill Templar (Vicki Raymond) finds her horse shot in a paddock, for no apparent reason. Are the crimes related? Were the hippies responsible? As one of Matlock's wealthiest and most powerful citizens, Miss Falconer, now unconscious in hospital, has plenty of other potential enemies.
Detective Sergeant Vic Maddern (Michael Pate) investigates alongside new partner Senior Detective Alan Curtis (Grigor Taylor), who has just transferred to Matlock from Melbourne.
Curator's notes
From an opening sequence strongly reminiscent of Easy Rider (1969) to a rollicking country car chase at its climax, this is a bumper first episode. Like the first episode of Blue Heelers years later, it takes advantage of its setting to explore a series of oppositions: country versus city, age versus youth, conservatism and tradition versus new ideas, local community versus outsiders (see Blue Heelers – A Woman's Place, 1993).
These kick in from the very first moments, when the hippies ride into Matlock and immediately clash with stuffy Miss Falconer. Like Maggie Doyle of Blue Heelers, Matlock Police's Alan Curtis is also a new recruit from the city, allowing for gentle digs at his city ways from the rest of the team. Not to mention the priceless line, 'You ever shot a horse before?'. Other country policing gems include the revelation that 'Sunday shooting' is a crime – or, at least, was a crime in fictional Matlock in the early '70s.
A central theme relates to the problems of jumping to conclusions and judging based on appearance. As the story unfolds, characters are forced to question their knee-jerk reactions to each other. Miss Falconer seems at first heartless and domineering but reveals a softer side. The hippies seem at first a dangerous outside influence but don't all turn out to be criminals. It's fun to watch the story take a bet each way here. It settles for the conclusion that, like any other social group, this subculture can produce both good and bad eggs.
The central police characters appear detached and professional, while at the same time adopting a familiar, often friendly attitude towards suspects and victims alike, in keeping with their country policing style. Unlike later shows like Crawford's Cop Shop (1977–83) or Blue Heelers, that typically contain several storylines per episode including some ongoing storylines about the police's private lives, 'Twenty-six Hours' follows one self-contained crime investigation story only. It shows little interest in police lives outside the job, or in painting anything other than a professional picture of them. Romance, arguments and emotions are left to the episode's guest cast.
For instance, in an entertaining, melodramatic scene, local woman Mrs Templar (Loriel Smart) attempts to overcome prejudices by throwing a party for the hippies. She fleetingly dabbles with the world of rock'n'roll, free love and infidelity – only to be caught out by her outraged teenage daughter Jill (Vicki Raymond).
Matlock Police's location footage was shot on film, its studio footage on video – a common practice at the time. What feels like a relatively high ratio of location to studio footage gives polish and visual interest as well as cementing the country setting.
When Matlock Police started screening in Victoria, Crawford Productions already had two other police dramas on air – Homicide (1964–75) and Division 4 (1969–75).