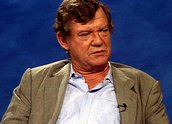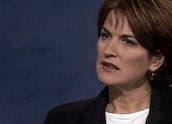 Masterpiece Special – Robert Hughes (1997)
Synopsis
The Australian expatriate art critic and author Robert Hughes ranges widely in a conversation with arts journalist Andrea Stretton about a career that's taken him from Australia to London, Italy and finally New York, where he's lived since the 1970s. He talks about art criticism and writing his own books.
Curator's notes
In a recent review of Hughes' book, Things I Didn't Know: A Memoir (2007) in The New York Review of Books (11 January 2007), his contemporary Clive James recalls: 'Among my generation of aesthetes, bohemians, proto-dropouts, and incipient eternal students at Sydney University in the late 1950s, Robert Hughes was the golden boy'. By the age of 24, Hughes had already written The Art of Australia (1966), which Andrea Stretton assures him is still used as a reference book for those researching Australian art and artists. He's written many books since those days and all of them have a muscular, lyrical prose and show a sharpness of mind which is not academic but accessible and easy to read, the reason his books are often bestsellers. Amongst his best known are The Fatal Shore (1987) – his grim history of the early Australian penal colonies, Culture of Complaint: The Fraying of America (1993) and American Visions: The Epic History of Art in America (1997).
At the time of this 1997 interview, he is art critic for Time magazine with a reach of 20 million readers every week, making him one of the most influential art critics in the world. He is articulate and opinionated, matching Andrea Stretton who is well-researched and intelligent, with thoughtful questions that keep the program humming with information about the life and times of this most interesting Australian.
The Masterpiece Specials were an extension of the Masterpiece series Andrea Stretton presented for SBS. Stretton, who died in 2007, began working for SBS as a journalist and producer in 1986. She co-presented The Book Show with Dinny O'Hearn until his death in 1993 then presented alone for many years. In 1998, she moved to the ABC as the presenter of Sunday Afternoon, staying until 2001. She was the artistic director of the 1998 and 1999 Olympic Arts festivals and was chosen by Prime Minister Keating to work on the Creative Nation cultural policy statement. Audiences loved her natural on-camera presence and interviewing style, at once conversational, knowledgeable and challenging. One of the things she was most proud of was her award from the French Government of the award of Arts and Letters for her contribution to arts and culture and for fostering French-Australian relations.