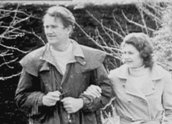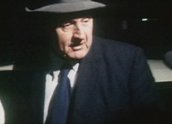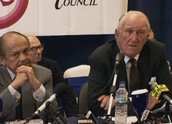 The Life and Times of Malcolm Fraser (2004)
Synopsis
In this documentary Malcolm Fraser, prime minister of Australia from 1975 to 1983, looks back on his life and discusses the principles that drive him. Elected after the dismissal of the Whitlam Labor government in November 1975, he was frequently cast as a right-wing conservative during his parliamentary career.
Luigi Acquisto's well-made documentary asks why Fraser, whose parliamentary career was dogged by perceptions of right-wing conservatism, has emerged as an outspoken commentator whose opinions on many social and political topics are respected and embraced by former opponents.
Curator's notes
It is fair to say that no other postwar Australian prime minister's image has undergone such dramatic change as that of Malcolm Fraser. Seen as a conservative while in government, Fraser has since become an outspoken commentator whose advocacy of reconciliation with Australia's Indigenous population, support for the rights of asylum seekers and staunch opposition to Australia's involvement in the war in Iraq have led many former critics to reconsider their opinions of him.
Has Malcolm Fraser changed his beliefs or has society and politics changed around him? Citing indisputable evidence from his period as prime minister (see clip one), Fraser presents a highly convincing case to say that he has always believed in many of the principles he is publicly known for now, but the shifting tides of politics have led to the perception that he's somehow about-faced on many issues.
Getting right to the heart of domestic issues, Acquisto opens with Fraser's participation in Sorry Day 2004 – an event held on 26 May since 1998 in commemoration of the Stolen Generations of Aboriginal and Torres Strait Islander children. Although it would take until 13 February 2008 for an Australian prime minister (Kevin Rudd) to officially say sorry to the Stolen Generations for their forced removal from families, Fraser is seen advocating for something 'permanent to be put in place'.
The editorial decision to open with this segment is significant; in 2004 prime minister John Howard had rejected the idea of a formal apology, putting his views at odds with Fraser, his Liberal predecessor. The other key editorial decision is to interview only Fraser (and wife Tammie, briefly at the conclusion).
As such there is no challenge to Fraser's views but this does not harm the film; it is a portrait of a political figure who responds to questions on contentious issues such as his role as Minister for Defence during the Vietnam War. With the benefit of hindsight, he says, the war was 'a misguided venture'.
That's clearly how Fraser regards the decision to wage war in Iraq without United Nations sanction (see clip three). A stickler for proper procedure, Fraser cannot agree with the proposal to go to war and launches into a frank analysis of how he believes the US conducts its foreign policy. Again, many Australians who opposed Fraser as prime minister would have agreed with his sentiments at this time.
With the use of outstanding archival material – particularly home movies of Fraser's boyhood on an isolated sheep station in NSW – Acquisto provides a clear picture of the man whose rise through Liberal Party ranks (he was elected to Parliament aged just 25 and became PM at 45) was marked by a willingness to speak out, even to his own political detriment.
Most famously, Fraser resigned his Defence portfolio and delivered a stinging attack in parliament on his leader, John Gorton, declaring him 'not fit to hold the office of prime minister'. As often happens in politics, this supposedly fatal move proved otherwise, eventually helping Fraser become party leader and then prime minister in 1975, following the dismissal of the Labor government led by Gough Whitlam.
Although Fraser rates the 1916 referendums on conscription as more damaging, Labor's sacking by governor-general Sir John Kerr and the subsequent Liberal election victory caused deep divisions in Australian society. It is fascinating to hear Fraser's detailed account of his actions at the time and precisely where they sat within Australia's constitutional boundaries.
Perhaps the most intriguing aspect of The Life and Times of Malcolm Fraser is the question of legacy. How will future generations look upon Malcolm Fraser as a prime minister and as an elder statesman who chaired human rights organization CARE Australia and was President of CARE International from 1990 to 1995, and spoke out strongly for Aboriginal reconciliation and the rights of refugees and asylum seekers?
Broadcast on SBS, the multicultural broadcaster set up by the Fraser government, The Life and Times of Malcolm Fraser is a valuable record of Fraser's contribution to Australian life and politics.
The Life and Times of Malcolm Fraser was broadcast on SBS on 2 September 2004. You can also watch an interview with Malcolm Fraser at Australian Biography.