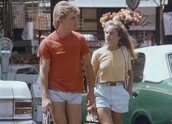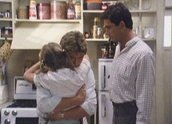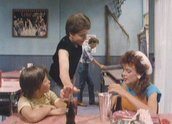 The Henderson Kids – Series 1 Episode 2 (1985)
Synopsis
The second part of a two-part episode, originally screened as one. When their mother (Diane Craig) dies in an accident, 13-year-old Tamara 'Tam Bam' (Nadine Garner) and 15-year-old Steve Henderson (Paul Smith) move from the city to live with their uncle, 'Copper' Mike (Nicholas Eadie), in the small timber milling seaside town of Haven Bay.
In this episode the teenagers learn of their mother's brave accidental death and, with no way of contacting their absent father, reluctantly leave their city life for an inhospitable Haven Bay. They arrive to find a town in turmoil with labour unrest and hostile local kids. In the background, the entrepreneurial aspirations of evil mill owner and would-be developer Mr Wheeler (Peter Whitford) are revealed.
Curator's notes
This episode features a who's who of Australian talent including then teenage Kylie Minogue, Ben Mendelsohn and Nadine Garner. Produced by Alan Hardy, who went on to produce successful children's series The Wayne Manifesto (1997) and Fergus McPhail (2004), and created and written by Roger Moulton, The Henderson Kids is not afraid to shy away from real issues and emotions.
This opening episode features a functional single-parent family in a story about the emotional as well as social repercussions of the death of a parent. The program also features the strong positive sibling relationship which exists between Steve and his rebellious younger sister Tam. The performances of Diane Craig and Nicolas Eadie as, respectively, a struggling single parent and a young man responding to the death of his sister, reflect the realistic complexity of emotions and relationships in the episode and series.
The program also reflects Executive producer Hector Crawford's belief in presenting Australian stories on screen for Australian audiences. Crawford was a prominent figure in the ongoing campaign for local content regulations on Australian television. Hit series made by Crawford Productions include Homicide (1964–76), The Sullivans (1976–83, see The Sullivans – On the Brink of War), The Flying Doctors (1986–93, see The Flying Doctors – Public Property) and The Saddle Club (2001–09, see The Saddle Club – Series 1 Episode 1).
Twelve one-hour episodes of The Henderson Kids were produced over two series. The episodes were also re-versioned and released as 24 half-hour episodes. In series one, the siblings continue to navigate the evil Wheeler and his plans, while gradually making friends with the gang and learning to love the country and their new life. In the second series, set in the fictional bayside suburb of Westport, Steve and Tamara are living in the city again with their father and are involved with a new gang of friends.
This episode was broadcast on the Ten Network on 11 May 1985.