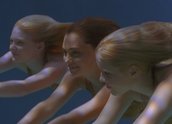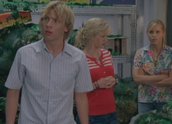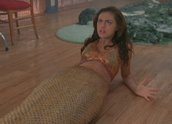 H20: Just Add Water – Hocus Pocus (2007)
Synopsis
In series one of H20: Just Add Water, three ordinary teenage girls discover an ancient underwater cavern and undergo a moonlit transformation that changes their lives – they become part-time mermaids with superpowers. Emma (Claire Holt) can instantly freeze water; Cleo (Phoebe Tonkin) can mould it into any shape; and Rikki (Cariba Heine) can boil water with a flick of her wrist. In this episode from series two, their friend Lewis (Angus McLaren) finds an old book on the mythology of mermaids and suggests they test a wish-granting potion. Cleo agrees, seeing an opportunity to reunite her fractured family. Rikki and Emma reluctantly become involved in the project, which soon gets seriously out of hand.
Curator's notes
H20: Just Add Water is produced by Jonathan M Shiff Productions. Other series produced by this company include Ocean Girl (1994–97), Cybergirl (see Cybergirl – Series 1 Episode 1, 2000), Wicked Science (2003–05) and Thunderstone (1999–2000). A running theme through all of these series is the importance of fantasy, which the show's creator, Jonathan M Shiff, believes 'lifts you into a higher concept plane and you have to reach for the stars a little bit' (see TV Kids Weekly, 21 November 2008).
In H20: Just Add Water, Shiff was inspired by the idea of teenage protagonists with superpowers. In particular, he believes young women continue to need empowering role models and reminders that they are capable of doing anything they want. The show also reflects Shiff's belief in the importance of high production values in children's programs which have to compete for attention with big budget film franchises like Harry Potter (2001–11). The series features elaborate underwater sequences complete with wildlife, special effects and CGI animation to enhance the mermaids' costumes.
Hocus Pocus is episode five of series two of H20: Just Add Water. It first went to air in the UK on 15 October 2007, and in Australia on Network Ten on 26 October 2007. It also screened on pay television on the Disney Channel in Australia. After nominations in 2007 and 2008, series three won the 2009 Logie Award for Most Outstanding Children's Program. Series two was nominated for the AFI Award for Best Children's Drama Series in 2008 and series three was nominated for the AACTA Award in the same category in 2011. H20: Just Add Water is in syndication on 120 channels around the world.