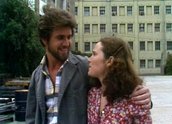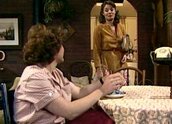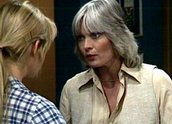 Cop Shop – Episode 109 (1978)
Synopsis
The Riverside police investigate a payroll robbery at a mill owned by Ralph Kingston (Roger Newcombe). They quickly set their sights on Kingston's employee Rod Conway (Stephen Bisley), a mechanic with a criminal record, without realising that a romantic drama playing out between other staff could affect the investigation. Kingston and his foreman Peter Lang (Mel Gibson) are both vying for the attentions of payroll clerk Maureen Hamilton (Joanne Samuel).
Meanwhile, the police are dealing with personal dramas of their own. Detective Sergeant Glenn Taylor (George Mallaby) is clashing with wife Pamela (Rowena Wallace) over the best way to deal with their daughter's shoplifting charge. Detective 'JJ' Jeffrey Johnson (Peter Adams) is strapped for cash but doesn't want his wife to go back to work. He wants to break with office policy and take on a second job. Senior Sergeant Eric O'Reilly (Terry Norris) has been clashing with his future son-in-law Tony Benjamin (Gregory Ross) and O'Reilly's daughter Claire (Louise Phillip) has moved out of home in protest.
Curator's notes
This episode brings together Mel Gibson, Steve Bisley and Joanne Samuel, just before they appeared together in George Miller's landmark, breakthrough hit Mad Max (1979). Bisley later appeared on the other side of the cop-criminal divide with main roles in Police Rescue (1991–96) and Water Rats (1996–2001).
Episode 109 demonstrates a typical narrative structure for Cop Shop. The payroll robbery is a self-contained dramatic storyline that plays out over two episodes, concluding in Episode 110. Meanwhile, there is plenty of time devoted to multiple, open-ended soap-style storylines about the police characters' relationships and personal lives. There are also shades of sitcom in the comic exchanges between uniformed police, in particular Gil Tucker's Roy Baker.
Favourite Cop Shop themes of male and female roles at work, in family life and in relationships are on abundant display in this episode, revealing the anxieties of a time when the second wave of feminism was making an impact.