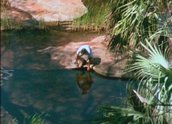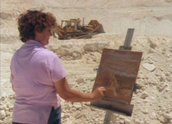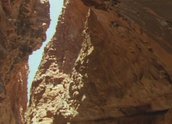 Central Australia: The Eighth Wonder (1989)
Synopsis
Ted Egan takes us on tour through Central Australia and introduces us to many of the features of the region he calls the 'Eighth Wonder'. Retracing the tracks of explorers and settlers in times past, he stops at modern towns that were once lonely outposts on a new frontier and explores 'places of wonder' including Lake Eyre, Stanley Gorge, the Olgas and Uluru. He also visits opal country, meets Aboriginal artists at work and goes looking for bush tucker.
Curator's notes
For viewers already familiar with the oeuvre of Ted Egan, it will come as no surprise when he bursts into song in the opening moments of what otherwise looks set to be a standard television travelogue. Others may need a moment to catch up.
Egan is an intriguing, folklore-type character, a self-declared 'old bushie' and singer-songwriter, who also happened to be the Northern Territory's Chief Administrator from 2003 to 2007. On top of this, his extraordinary biography includes 27 years working for the Department of Aboriginal Affairs, an ongoing project to create a history of Australia in song, and stints as a stockman, football coach and crocodile hunter. As presenter of this episode from his 13-part series Ted Egan's This Land Australia, he steps into the explorer-adventurer role that's so familiar in TV travel and adventure documentaries.
The white bushman-explorer has a long legacy in Australian narratives. In film and television we see it in both fiction (for example, Crocodile Dundee, 1985) and documentary (for example, The Bush Tucker Man, 1988–96). Egan approaches this archetype with a light touch, making the most of his connections with – and clear passion for – Central Australia. On his travels we meet some entertainingly laconic characters. A few of these he enthusiastically invites to join him for a song – their deadpan responses could be interpreted in many ways.
Alongside a focus on European explorers, Egan talks about aspects of Aboriginal history since colonisation and visits Indigenous communities for scenes about bush tucker and dot painting. While he touches briefly on some complex issues, such as the historical role of Christian missions in Indigenous communities, the program's light entertainment-adventure format does not provide the scope to explore them in any real depth. Egan has become a vocal campaigner on Aboriginal policy, releasing a book on the subject in 2008 called Due Inheritance: Reviving the Cultural and Economic Wellbeing of First Australians (Niblock Publishing).