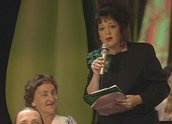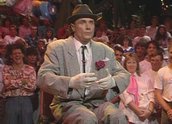 The Big Gig – Series 1 Episode 1 (1989)
Synopsis
A live comedy-variety show featuring stand-up comedians, sketch comedy and music.
Curator's notes
Like several Melbourne-based comedy series in the '80s, The Big Gig tapped into a vibrant live comedy scene and a number of the new performers it showcased continued on to significant careers in TV and radio.
The show retains qualities of a live theatrical event. Rather than locking cameras on the performers, the venue and audience are integral to its atmosphere and presentation. Free-standing spectators roam between multiple stages, some of them 'in the round', and are often in the frame as different short segments play out. Add smoke machines and there's a rowdy beer-hall type atmosphere.
On top of this house flavour, The Big Gig's regular acts are quite different in style, ranging from the in-your-face, high energy routines of the Doug Anthony All Stars to Flacco's surreal flights of fancy; and from Jean Kittson's character-based sketches to host Wendy Harmer's slice-of-life stand-up. The show also featured an eclectic mix of guest performers. This adds to the raw, informal feel, reminiscent of an open mic night.
The Big Gig adopts a similar, hosted sketch and stand-up format to US series Saturday Night Live (1975–current), and UK series Saturday Live (1985–87) and Friday Night Live (1988). The Doug Anthony All Stars appeared on the latter program before performing on The Big Gig.
Veteran comedy producer, director and talent spotter Ted Robinson came to The Big Gig with credentials including working on The Aunty Jack Show (1972–73) and writing and directing The Gillies Report (1984–85). Robinson later worked on other projects with several of the show's performers, including DAAS Kapital (1991–92, see DAAS Kapital – Faith) with the Doug Anthony All Stars and Good News Week (1996–2000, 2008–current) with Paul McDermott. In 2007, he worked with McDermott on a remake of sorts of The Big Gig called The Sideshow.
Other '80s series that grew out of stage comedy in Melbourne include Let the Blood Run Free (1990–92), starring Big Gig regulars Lynda Gibson and Jean Kittson, and the the D-Generation (1985–87, see D-Generation – Series 1 Episode 1), whose performers started out in university comedy revues.
The Big Gig ran for five seasons from 1989–91 and aired three TV specials in 1992.