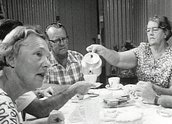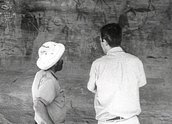 A Big Country – Peninsula People (1968)
Synopsis
Peninsula People was the seventh A Big Country program to be broadcast and was filmed in black-and-white. It presents in magazine format the lives of some of the characters that live in the Gulf country, from stockmen to station owners, miners to Aboriginal artists, and the flying doctor. This is the real outback as it's seldom seen.
Curator's notes
A Big Country was an iconic documentary series broadcast for over 20 years on ABC television. Its aim was to bring country Australia into the living rooms of the big cities and the lives of urban Australians who may never have travelled into the outback.
A Big Country captured the country at a time when no-one else was recording the huge changes occurring in rural Australia, as the early settler holdings were being absorbed by large companies. Although this is a very early example of the series and lacks some of the fine documentary making skills that were later developed by the A Big Country teams, it nevertheless includes some marvellous moments of everyday life. What Ron Iddon, one of the program's best-known reporters, lacks in filmmaking skills at this early stage of his career, he makes up for with his ability to encourage these Australians to talk about their lives.