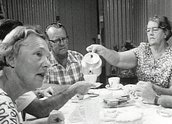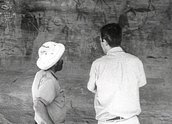 A Big Country – Peninsula People (1968)
It's very interesting to see this clip of my father Percy, in the early days of research into the Quinkan rock art of Cape York Peninsula. There are 2 errors in the caption: TREZISE, not Tresize; and the reference to "the Gulf country" should be "the Peninsula", it's a long way from the Gulf.

#1 from MattTrezise – 6 years, 9 months ago.

We should also correct the reference to Dick Roughsey as a local elder - Dick Roughsey (Goobalathaldin) was an elder of the Lardil of Mornington Island in the Gulf of Carpentaria; Dick and Percy were working together as artists when they became interested in the rock art, and Dick was the key to making friends with the elders of Quinkan Country; the series of children's picture books were co-written by them and the paintings in the books were also composite works, with Percy painting the landscapes and Dick the human and animal figures.

#2 from MattTrezise – 6 years, 9 months ago.
To comment on this title, you need to be
logged in
.

RSS – Subscribe to an RSS feed of comments on this title. (learn about RSS)