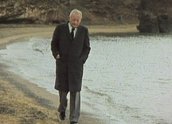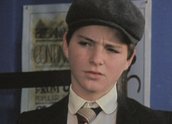 All the Green Year – Episode 2 (1980)
Synopsis
An elderly man (Alwyn Kurts) recalls his teenage years in a seaside town in the years between the First and Second World Wars. He reminisces about his best friend, the trouble they used to get into and their unfair treatment at the hands of the local schoolmaster.
Curator's notes
All the Green Year is a six-part ABC mini-series adapted from the novel of the same name by DE Charlwood. Although not autobiographical, Charlwood's novel was loosely based on characters and memories from his childhood in Frankston (then a seaside town near Melbourne, now one of Melbourne's outer suburbs).
The mini-series is nostalgic in tone, recalling a type of small-town society which is now fading into the past and dwelling on the youthful mischief of the narrator and his friends. It does not, however, view the boys' harsh treatment by their schoolmaster and parents through the same rose-coloured glasses. They are low achievers at school, constantly in trouble and being punished. When a gentler, more progressive teacher arrives, there is a glimpse of how they might bloom with a little more encouragement.
Each episode is introduced by the narrator, played by Alwyn Kurts, at the time a small screen regular well known for his roles in Cop Shop (1977–83) and Homicide (1964–76). In a somewhat unusual stylistic choice, he narrates directly to the camera while walking along the beach, before the episode segues into scenes from the past.
All the Green Year was an in-house ABC production made before the shift towards collaborations with independent production companies in the mid '80s. Adaptations from classic stage plays and novels formed a significant part of the public broadcaster's drama repertoire at this time (see Rusty Bugles, 1980, and I Can Jump Puddles, 1981).
All the Green Year was broadcast on the ABC from 27 October 1980.