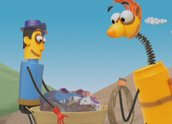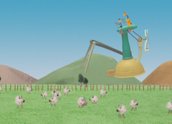 The Adventures of Bottle Top Bill – A Windy Day (2005)
Synopsis
Bottle Top Bill (voiced by Graham Matters) and Corky the horse (voiced by Emma Jane Hyland) are doing the weekly washing on a windy day. When their clothes blow away in the wind, the two friends need a special flying machine to get them back.
Curator's notes
The Adventures of Bottle Top Bill and His Best Friend Corky is a computer-animated series aimed at children aged three to six. The animation is a mixture of CGI, 2D and stop motion. In the show, mundane 'found objects' form the animated characters. Series creator and director Cameron Chittock:
Bottle Top Bill is about inspiring young kids to tell stories using bits and pieces found around the home. As Bill and Corky travel through each story, the characters they meet and the places they go to materialise from bits of junk that every kid might find around them.
Bottle Top Bill is produced in Singapore and is a co-production between Southern Star Entertainment, the ABC, the UK's Channel Five and EDB in Singapore. Chittock's team of 50 people produce one twelve-minute episode per month.
New Zealander Cameron Chittock's other credits include claymation children's series Oscar and Friends (1996), animation direction on computer-animated children's series Erky Perky (2006–10) and puppet design and construction for Peter Jackson's film Meet the Feebles (1989).
Windy Day is episode 20 of series one of The Adventures of Bottle Top Bill and His Best Friend Corky. There have been two series of 26 episodes each: the first in 2005 and the second in 2007. Series one screened on the ABC in 2006 as well as Channel Five in the UK and RTE Two in Ireland.