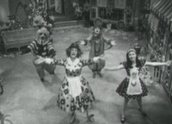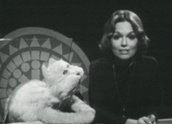 Adventure Island – Episode 1174 (1972)
Synopsis
This is the second-last episode of Adventure Island and the last to be broadcast on a Thursday. It includes a farewell to Thursday regular Maxie Mouse (a puppet operated and voiced by Ernie Bourne), who reads Dorothea Mackellar's iconic poem My Country (1908). A pantomime follows featuring two musical numbers: 'Sing About Happy Things' and 'A Clown Without a Smile'. Host Sue Donovan says her goodbyes to another Thursday regular, Samson the Cat (a puppet operated and voiced by Ernie Bourne), who sings a melancholy goodbye song.
Curator's notes
Ho ho, far away we go
To a land that's far across the sea
Bing bong, sound the sailing gong
For now we're leaving for Adventure Island
Screening Monday to Friday, Adventure Island featured hosted puppet segments followed by an extended pantomime with cliff-hanger endings. These stories were set in the imaginary land of Diddley-Dum-Diddley, 'far across the sea' on Adventure Island. With a strong good-versus-evil motif, the complex scripted story component of the program employed all the tools of melodrama. It also continued the long tradition of pantomime in children's entertainment, featuring physical character-based slapstick, a man dressed as a woman (Brian Crossley as Flower Potts), English accents and double entendre.
Nancy Cato, previously seen in The Magic Circle Club (1965–67) hosted Adventure Island from 1967–68 and Sue Donovan (seen in this episode) hosted from 1969 until the program's demise in 1972. Regular Diddley-Dum-Diddley residents included Liza (Liz Harris), Clown (John Michael Howson), Flower Potts (Brian Crossley), Percy Panda (Jack Manuel), Dodo Panda (Marion Edward), Betty Bruin (Carole Walker) and baddies Fester Fumble (Ernie Bourne), Miser Meanie (Colin McEwan, 1967–68 and Robert Essex, 1969–72), Captain Crook (Ernie Bourne), Giggles Goblin (Peter Homewood) and Squire Squeezum (Burt Cooper). There was also a regular cast of puppets including Maxie Mouse and Samson the Cat, both operated by Ernie Bourne.
The show was created by actor-writer John Michael Howson and Executive Producer Godfrey Philipp – the mastermind behind the ALP: It's Time (1972) campaign. Howson wrote the majority of the scripts. He also stars as Clown, and in this episode sings the moving solo 'A Clown Without a Smile'. Howson later co-wrote biographical musicals Shout!: The Legend of the Wild One (2001, about Johnny O'Keefe) and Dusty: The Original Pop Diva (2006, about Dusty Springfield). He also made regular appearances on The Mike Walsh Show (1973–85) where he was dubbed 'Hollywood Howson' having spent nearly two decades living and working in the United States. In an interview for The Sydney Morning Herald in 2009, Howson said the key to his longevity was his ability to 'constantly re-imagine myself'.
A joint production of Godfrey Philipp Productions and the Australian Broadcasting Commission, Adventure Island is believed to be the first program made by the ABC in collaboration with an outside production company. Production was five weeks ahead of broadcast and the show was pre-recorded at the ABC's studios in Ripponlea, Melbourne on Sunday and Monday. Adventure Island was produced and broadcast in black-and-white as it preceded the introduction of colour television in Australia in 1975.
The program's axing in 1972 caused a public outcry but despite questions in Federal Parliament and a 'Save Adventure Island' campaign, the program was replaced on air by Sesame Street (1969–current). John Michael Howson and musical director Bruce Rowland have re-launched a live show and DVD under the title Adventure Island – The Next Generation. According to their website, this new show is a 'mixture of pantomime, song and dance, has all new stories and music, but still has the same sense of fun and core values of the original show'.
Adventure Island – Episode 1174 was the penultimate episode, broadcast on the ABC on 21 December 1972. The series was broadcast from 11 September 1967 to 22 December 1972 but sadly only six episodes remain (one each from 1967 and 1971 and four consecutive episodes from 1972); tapes of many black-and-white ABC-TV programs from this time were 'recycled' as a cost-cutting measure. Adventure Island won the first TV Week Logie Award for Best Children's Show in 1969. Presenter Sue Donovan (married to actor Terence and mother of Jason) won a Logie for Best Female Personality in 1972 and in 1973 Godfrey Philipp won a special Logie for his contribution to Australian children's television.