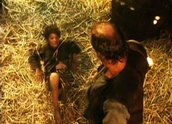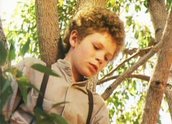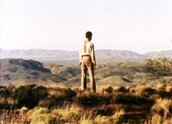 A Fortunate Life 1985
Director Marcus Cole comments on 'A Fortunate Life'
I recall towards the end of the writing process that Ian [Bradley, executive producer] asked me if I would like to direct four of the eight hours. I was surprised by the offer because I had done very little film and nothing on that scale, but was delighted and grateful to be given the opportunity. Who would have said no?
We then relocated to Western Australia for a year of pre-production and shooting and cutting. It was certainly a huge undertaking, the biggest and most expensive mini-series made up to that time, I think, and at times pretty daunting. During moments of uncertainty I would ask myself, 'What would John Ford do?' This steadied my nerve as the long arc of Bert Facey's story see-sawed from the epic to the intimate; from the representative Aussie battler to the particular Aussie man.
We must have surveyed half of Western Australia on the ground and from the air. David Copping oversaw the design aspects in every detail – cockney curmudgeon that he was, he was wonderful and never faltered, never disappointed me and always gave more than he promised. We also attracted a great cast – by the time we came to shoot they all wanted to participate in what had become an Australian classic book overnight.
Producer Bill Hughes comments on 'A Fortunate Life'
Producing A Fortunate Life was the first time in my life that I had ever produced anything other than short films! My experience as a director was quite expansive as I had worked for Crawfords since I was 21 years old. So when Ian [Bradley, executive producer] offered me the chance to produce A Fortunate Life, I thought 'Oh my god this has to be so good – what'll I do?'
The writer, Ken Kelso, was immersed in the project and had been for some time before I came on board. Kelso knew everything about the characters, the settings, the timeframes, the lot. My early work on the project was spending lots of time with Ken. Before casting even started I employed David Copping as the production designer. David was such a huge help to me in the early days of pre-production and it was he who said things like, 'You know Bill, to do this properly we will have to build farmhouses and plant crops six to eight months before we shoot. Let's find some hillsides with northerly aspects and get started now.'
David and I went to Western Australia and negotiated leases on vast tracts of land owned by Alan Bond. We organised the planting of crops and David set about designing location sets to fit the land. It was a massive pre-production. Just David, Ken and I spent months and months in what we called pre, pre, pre-production. We had to build boats for the Gallipoli landing, acquire hundreds of rifles, uniforms, and find a place to convert into a studio.
I made the decision to shoot in Western Australia because the setting was as important to the story as any other aspect. The locations were new to drama audiences as there had not been major films shot in WA. Consequently everyone we encountered was happy to please. The Fremantle Council agreed to pull out light poles and cover their streets with dirt and remove parking signs and god knows what. We also travelled to the Pilbara. Massive location moves and spectacular scenery. There was no studio in Perth so we built one.
The budget – for its day it was a huge budget – $6.4 million for eight hours of TV. From my memory there was never a squeak about the cost. The brief was to do it properly and do it well and Ian knew that it would cost dollars to cover the brief.
The most difficult sequence was the filming of the Gallipoli landing and the ensuing battles. Extreme heat (40+ degrees Celsius for weeks on end), hundreds of extras, special effects, boats being blown up, and the heat – always the heat.
Casting was another massive job and word got around the industry that if you acted – you had to be in A Fortunate Life. This word of mouth was sensational for us because we only approached the best and they all said yes!
Disclaimer: Any opinions, advice, statements, views or other information expressed by the creator/s (including in relation to any third-party content they submit to the site) are solely provided by, and the legal responsibility of, the creator/s and not of the National Film and Sound Archive. While the NFSA will monitor the contents of submissions from creator/s, we do not certify, endorse or verify the contents of any communication published on this page. The National Film and Sound Archive reserves the right to remove any comments from this page at its discretion; this reservation creates no affirmative duty in the NFSA, and failure to exercise this power shall not subject the NFSA to any liability of any sort. If you have any concerns about this content please contact editorial@aso.gov.au.