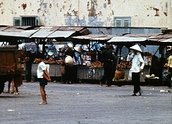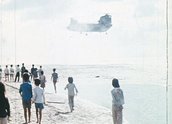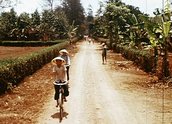 Terrain Study of Phuoc Tuy Province South Vietnam (1967)
The second part of clip 2 shows a Chinook helicopter delivering supplies to Australian soldiers on the beach near Phước Hải Commune (probably late May 1967) to support the building of the bottom end of an 11 kilometre minefield. The minefield is acknowledged as one of the great blunders of Australia's involvement in the Vietnam War. The Vietnamese stripped the minefield of at least a third of its mines, about 8,000 (though this figure is not completely reliable) and used them against the Australian Forces. The result was that of all Australians killed in Vietnam, about 10 percent or 50 soldiers, were most likely killed by those mines. The film also shows the two coiled barbed wire fences that ran down the side of the minefield.

This is very historic film. I know of very little film of the minefield although there is some of the construction of the fence. This is probably one of the few pieces of film of the Minefield and probably the only footage of the part of the minefield in the sand dunes. My guess is part of the reason the film was shot was to show the minefield. At that time it was considered a rather marvellous thing. It was a huge project and considered an ingenious solution to the problem of "VC infiltration of the villages".

Posted on behalf of Walter Pearson by ASO


#1 from Editor – 8 years, 7 months ago.
To comment on this title, you need to be
logged in
.

RSS – Subscribe to an RSS feed of comments on this title. (learn about RSS)