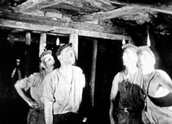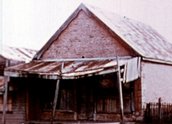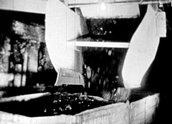 Hewers of Coal (1957)
Synopsis
This documentary about Australian coal miners presents a dramatised history of mining since the early 1900s. It features scenes of the mechanisation and modernisation of the industry in the 1950s as well as the friction between miners and mine owners and managers.
Curator's notes
The Miners' Federation commissioned the WWF Film Unit to document a broad overview of the history of coal mining from the perspective of the workers. To prepare for the shooting of the film, filmmakers Jerome 'Jock' Levy and Keith Gow spent time underground meeting Wollongong miners and the underground sequences in the film effectively convey the experience of labouring in deep, dark coal pits. The above-ground scenes were shot with 16mm colour film while the pit scenes are all filmed in black-and-white.
Hewers of Coal was launched on 8 August 1957 at the Wollongong Workers' Club and was subsequently shown throughout coal-mining areas of New South Wales (where most of the film was shot). It was also seen by members of the Miners' Federation and other trade unions across the country and it screened at the 1957 Sydney Film Festival.
Fighting Films: A History of the WWF Film Unit (2003, Pluto Press) was written by academic Lisa Milner based on her PhD research into the WWF Film Unit. The book was jointly funded by the Maritime Union of Australia, the Construction Forestry Mining Energy Union (Mining and Construction Divisions) and the Australian Manufacturing Workers' Union. To coincide with the publication, the MUA released a three-DVD compilation featuring 13 of the WWF Unit's films as well as John Hughes's documentary Film-work (1981).