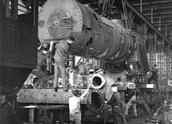 Building a Railway Engine (c.1925)
Synopsis
This short film shows some of the work carried out at the Islington railway engine construction and repair plant of the South Australian Railways, just outside of Adelaide.
Curator's notes
This was one of a series of short promotional films commissioned by the South Australian Government, most likely to attract workers (see Building a Motor Body, c1925). One of the intertitles towards the end credits the 'South Australian workmen' with the high quality engine ready for duty.
The prints of this documentary were deposited with the National Film and Sound Archive by an Adelaide-based film director and 'picture show man'. Much historical footage of this nature has survived through the care shown by film lovers and collectors. In this case, the director was particularly interested in scenes of life in the Adelaide area, which prompted him to collect a range of material shot in South Australia.