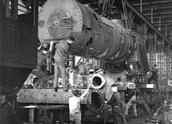 Building a Railway Engine (c.1925)
There is quite a long and sensible Education note in these pages but its existence is not shown in the Menu at right of pages

#1 from filmart_dd – 10 years, 9 months ago.

While there is a Curators Notes entry in the Menu, there is a different note found under the menu item "Video". It is there that the existence of thefurther Education note is disclosed.
Thus, there is a double value in this clip: it gives information but also serves random intellectual curiosity -- bravo!

#2 from filmart_dd – 10 years, 9 months ago.

The caption to the still photo uses the rhetorical (and hackneyed) phrase "iron horse". Did this lead the curator in the Clip Description to suppose that the locomotive in this film was made of "iron"?

#3 from filmart_dd – 10 years, 9 months ago.

On the education note - the locomotive is a 710 class locomotive. 'Mikado' type. (Not a 500 class 'Mountain type'). The finished product is locomotive 715, entered service in May 1929 & withdrawn from service in July 1962. Built at the Islington workshops in South Australia. I believe the film was saved by film historian Vic Reeves when it was passed to him rather than being thrown out. If it is this source, he commented at the time he had it transferred from 'Nitrate' to more modern film to preserve it.

#4 from Railwayperson123 – 8 years, 3 months ago.
To comment on this title, you need to be
logged in
.

RSS – Subscribe to an RSS feed of comments on this title. (learn about RSS)