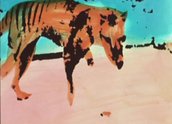 Synopsis
Animated images of the Tasmanian tiger are depicted in different environments: a zoo, suburbia and bushland, as local people recall their sightings of this now extinct animal.
Curator's notes
Based on documentary footage shot in Hobart, Tasmania in the 1930s (see Tasmanian Tiger Footage, 1932), Lucinda Clutterbuck's film Tiga is an animated eulogy to the now extinct Tasmanian Tiger. It utilises a voice-over of various people recalling sightings of the animal and background music by Paul Schultz.
Made prior to the advent of computer animation, it is a prime example of 2D animation using mixed media on cel and paper, utilising paint markers, a reprographic camera and rotoscoping (where photographs are traced by the animator and hand coloured).
Clutterbuck, who tends to produce intuitive, non-narrative films, began her career as a graphic artist at Les Beaux Arts in Paris and has continued to work as an artist throughout her career. On her return to Australia in 1981, she worked for the American company Hanna-Barbera Productions and for the Yoram Gross studio.
In the 1980s and 1990s, she produced rock video clips including Pressure Sway (1983) for the Machinations. More recently, she produced Walnut and Honeysuckle (2001) for the SBS animated television series Home Movies (2001) and the live-action documentary Ice Time (2007).
Tiga won the Asia Pacific Award for Best Animation and was nominated in 1990 for Dendy and AFI Awards for Best Animation. It has screened at international festivals and was purchased by Canal Plus, France. In 2003, it was included in a compilation entitled Les Contes des Animaux, which had a cinema release at the Centre Georges Pompidou, Paris and was screened in 25 cinemas across France. It was released as a DVD in 2004.