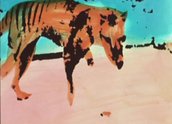 Sources for the full version of Tiga
Distributor
Contact the distributor directly.
Madman Entertainment: The Bold, the Brave and the Best
This film is included on Madman Entertainment's DVD The Bold, the Brave and the Best of Australian Animated Shorts.
The filmmaker / production company
Contact the filmmaker directly.
Piccolo Films
visit Piccolo Films
email admin@piccolofilms.com.au
phone +61 2 9713 9900
Non-theatrical loans
The National Film and Sound Archive loans copies for non-commercial screenings to organisations including educational institutions.
Learn more about the Non-theatrical lending collection.