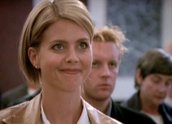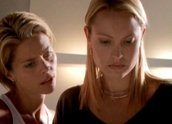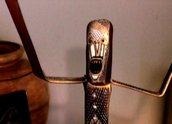 Synopsis
A short drama about a young Western art collector who gets more than she's bargained for when she purchases Indigenous art pieces that include a Mimi statue and a painting of a barramundi.
Curator's notes
A clever film from director–writer Warwick Thornton (Kaytej), that satirises the Indigenous art industry, poking fun at white art connoisseurs who purchase Indigenous art purely for its investment value. Richard Bell (Kooma, Kamilaroi, Jiman, Goreng Goreng) won the 20th Telstra National Aboriginal Arts Award in August 2003, his winning entry was titled Scienta E Metaphysica (Bell's Theorem), or Aboriginal Art Its a White Thing, and is an Indigenous artist's perspective on the Aboriginal art industry satirised by Thornton in Mimi.
Indigenous art is a growth industry that came into prominence during the 70s, and implicit within the notion of authentic Indigenous art is also the idea of the authentic Aborigine. Thornton exploits the idea of the authentic Aborigine when Catherine (Sophie Lee), having bought two pieces of Indigenous art, one being a Mimi statue which mysteriously comes to life and haunts her apartment, asks her friend if she knows any authentic Aborigines who can get rid of the Mimi presence for her. In fact, Aboriginal art is required to have a certificate of authenticity to prevent fraudulent reproductions, and it is this correlation between the idea of an authentic Aborigine and authentic Aboriginal art that Thornton comically manipulates in this short film.
Thornton is a respected cinematographer as well as a writer–director of film. As a cinematographer, he worked on films such as Queen of Hearts, Radiance, Plains Empty, Flat and Buried Country. His other works include Green Bush, The Old Man and the Inland Sea, and Photographic Memory: A Portrait of Mervyn Bishop.
Other films in the AFC Indigenous Branch drama initiative Dreaming in Motion are Black Talk, Flat, Shit Skin and Turn Around (all 2002).