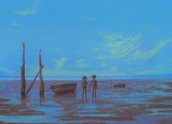 Looking for Horses (2001)
Synopsis
Sisters Gemma (voiced by Gabrielle Vening) and Ruby (Celesta Vinckier) accompany their parents (Christina Louis and Martin Louis) to French Island, Victoria on a summer holiday. They explore the place but are disappointed to find there are no horses, that the rabbits are dying and that the shop owner is unfriendly. With no accessible water to swim in, they coat themselves in mud, planning to surprise their parents. Instead, they discover the truth about their parents' relationship. The film is narrated by the eldest sister, Gemma, now an adult (voiced by Samantha Stone).
Curator's notes
Looking for Horses is a stop-motion animation by Anthony Lawrence, creator of the ABC animated series Plasmo (1997), which screened in 24 countries. Lawrence, one of Australia's leading stop-motion animators, also teaches animation in schools and was one of the six animators who worked on Adam Elliot's feature Mary and Max (2009). Lawrence's style of animation is closer to the European tradition and recalls the work of the Brothers Quay and Jan Švankmajer. The film has a dark, unsettling mood and the puppets retain their jerky movements rather than the more fluid motion of human beings.
Based on a short story by Chrissie McMahon, the film portrays an adult's recollection of a family holiday which crushes the childhood illusions of 10-year-old Gemma and her younger sister Ruby. Presented from a child's perspective, the film begins with a familiar domestic scene – a family travelling by car to a summer holiday destination. However, from the outset, the young girls' expectations are subverted. French Island is distinctly un-French; there are no horses to be found – only a goat; the rabbits are dying; the shop owner is unfriendly and the beach consists of mud.
In 2002, Looking for Horses won Best Animation at the St Kilda Film Festival, Best Australian Animation at the Melbourne International Animation Festival, a Special Distinction at the Annecy International Animation Festival, Jury Prize at the Holland Animation Film Festival and the KROK International Animated Films Festival (Ukraine) Canon Sponsorship Prize. It screened as part of Home Movies on SBS in early 2002.