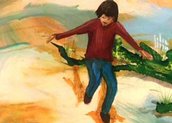 Living with Happiness (2001)
Synopsis
A mother (voiced by Sigrid Thornton) cannot sleep, obsessing about misfortunes that could befall her and her baby son. Thinking of the sea calms her, but the morning brings more dreadful disasters, all of them imagined. A visit to the school fete merely provides another opportunity for her projections of worst-case scenarios, as does driving her car on a busy highway. Finally arriving by the sea, the mother is swept out by a huge wave. She panics, imagining drowning and sharks, but is saved by an unlikely hero, and recalls his good advice.
Curator's notes
Sarah Watt returns to her theme of imagined disasters in Living with Happiness (see also Look Both Ways, 2005). Following Small Treasures (1995), it is a continuation of her personal story of motherhood.
This film is handled with a lighter touch – the protagonist ridicules her own fears that happiness and life itself may be snatched away at any moment. Living with Happiness questions our own ability to embrace happiness without worrying about its demise.
When swept out to sea she confronts her fears and discovers a will to live that brings her out of the depths, into the light and allows her to embrace living with happiness.
Living with Happiness won the 2001 AFI Award for Best Short Animation, and later screened at the 2002 WOW International Film Festival. It also screened as part of Home Movies on SBS in early 2002.