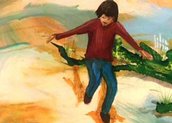 Living with Happiness (2001)
Seeing and watching scary thoughts that are always in the small pocket of my mind brought to film animation is amazing, confronting and yet not so scary.

#1 from Kerryjean – 11 years, 4 months ago.
To comment on this title, you need to be
logged in
.

RSS – Subscribe to an RSS feed of comments on this title. (learn about RSS)