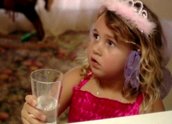 Bit of Black Business – Kwatye (2007)
Synopsis
Gary (Donnovan Mears) comes home after a big night drinking beer and collapses on the couch. He is awoken early by his daughter, Aspen (Aspen Beattie). Hung over, he wants to be treated like a sick patient and asks Aspen to get him some kwatye (water) from her mummy, Karen (Carmen Glynn-Braun). He is oblivious to Karen's preparations in the kitchen for Aspen's third birthday party. Resentfully Karen prepares an aspirin in kwatye for Aspen to deliver and mutters a put down. Eager to please, Aspen returns again and again with a fresh glass of kwatye. It soon dawns on both young parents that they don't know where Aspen is getting all this water.
Curator's notes
Filmed in Alice Springs, Kwatye is a humorous lesson in being careful about what you say in front of the children. Inspired by a true story, writer-director Trisha Morton Thomas states in the production notes, 'I want the audience to think about the pressures young parents are under, and to realise that even though these young people have a child of their own, they are still children themselves and are doing the best they can'.
'Kwatye' means water in the Arrernte language of Central Australia. The song accompanying Aspen bringing glasses of kwatye is 'Drink Drank Drunk' by Australian rapper Drapht.
Kwatye was produced by Kath Shelper as part of the Bit of Black Business initiative by the Indigenous unit of the AFC, and premiered at the 2007 Message Sticks Indigenous Film Festival in Sydney.