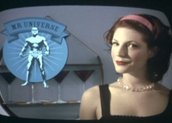 The Instructional Guide to Dating (2005)
Synopsis
A smiling air hostess (Lara Cox) informs us as though giving in-flight safety instructions that we are ready to commence our dating adventure. She directs our attention to a departure board with ten exciting destinations, including: 'How to Flirt with Your Date', 'How to Succeed on the Dance Floor', 'How to Impress Your Partner's Parents', as well as 'How to Have an Affair' and the concluding 'How to Survive the Break-up'. Helpful safety cards with diagrams take us from our relationship take-off to a fairly safe landing in this witty and clever animation.
Curator's notes
The Instructional Guide to Dating was Siobhan Bowers's graduation film from AFTRS. It is a delightfully ironic take on the ever-cheerful air hostess, in-flight safety procedures and, not least, the formalities of dating. Dressed in an immaculate uniform, speaking with the clipped precision and decorous manner of the 1950s, the air hostess guides us through the turbulent waters of dating.
As each destination plunges us further into the dating adventure, helpful suggestions ensure that our goals are met and hazardous situations overcome. For example, in the destination titled 'How to Have Sex in a Confined Space', we are advised that 'even the smallest space can become a passionate enclave', as safety cards show a cupboard, a car and a tent – taking up yoga is also encouraged.
Director Siobhan Bowers won two well-deserved awards for this film: Best Animation at the Manhattan Short Film Festival in 2005 and Best Comedy at CINE Golden Eagle Film Festival in the US, 2006. The Instructional Guide to Dating screened at a range of film festivals worldwide, including the Annecy International Animation Festival in France, 2005.