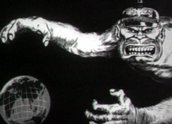 Cartoons of the Moment – Today the German Monster Threatens the World (c.1916)
Synopsis
This propaganda cartoon from a wartime Australasian Gazette newsreel is part of cartoonist Harry Julius's Cartoons of the Moment series. In this edition, a King Kong-like monster wreaks havoc on the world in a bloodthirsty rampage that destroys women and children. The end of the cartoon pleads to Australian men of fighting age to enlist in the war effort to help fight this 'German monster'.
Note the middle segment of this footage is difficult to view because the original nitrate component has decomposed severely.
Curator's notes
In this edition of Cartoons of the Moment, Harry Julius depicts the 'German Monster' as a horrifying, bloodthirsty animal wreaking vengeance on women, children and innocents throughout the world. This powerful piece of propaganda served as a recruitment tool to persuade men of fighting age (married or single) that their help was urgently needed in the war effort. The Australasian Gazette employed Julius specifically for wartime editions and the newsreel supported the pro-conscription campaigns and referenda pushed by Prime Minister Hughes between 1916 and 1917. Julius's wartime series was probably the first example of locally-produced animated cartoons screened on a weekly basis to Australian cinema audiences.
This film exhibits severe nitrate decomposition and parts of the image, sadly, can no longer be viewed. Nitrate film base (commonly used up until the 1950s) is fragile and begins to degrade as soon as it is made. Symptoms of nitrate decomposition include fading of the silver image, stickiness in the base, film blistering, shrinkage and brittleness. When prepared for preservation at the National Film and Sound Archive, this film was already moderately scratched, sticky and heavily shrunken. Its preservation has ensured the survival, even if in damaged form, of an historical piece of persuasive propaganda.