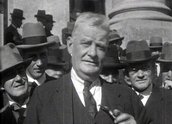 Delegates to the Australian Labor Party's Easter Conference at the Trades Hall Melbourne (1928)
Synopsis
This is mute newsreel footage, edited with caption cards identifying individual delegates, of the Victorian Labor Party's 1928 Easter conference at the Melbourne Trades Hall.
Curator's notes
This short film is one of a collection of archival campaign films held at the NFSA on behalf of the Australian Labor Party. Essentially it's a visual record of the delegates attending the Victorian party conference at Melbourne Trades Hall in 1928. The conference was significant because a decade had passed since the 1916-17 divisions over conscription, and the ALP was finally reconsolidating and presenting itself once more as a true political force. As one of the captions states, 'the stalwarts of the Labor cause were all there'. The general tone of all the captions reflects the optimism of the gathering. In his address to the conference, the newly-elected President of the Victorian branch, Richard Crouch, made a plea for national unity. On 12 October the following year, James Scullin led the ALP to a landslide federal election victory.
The film represents a rare opportunity to view moving footage of a collection of key historical figures of the ALP and the labour and trade union movement.