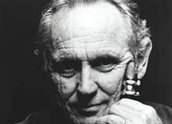 Just the Beginning (1971)
Synopsis
Recorded in 1971, the album 'Just the Beginning' by the Don Burrows Quartet was the culmination of decades of playing live in various styles of jazz: Latin and classical influences mix with more traditional and modern jazz. The album went gold – the first Australian jazz record to do so – and helped bring jazz to mainstream Australia.
Curator's notes
It is the collaboration between Don Burrows and jazz guitarist George Golla, who had been playing together live for several years, that defines 'Just the Beginning': a cool, Latin-influenced Australian jazz built around Burrows's flute and Golla's electric guitar. Their musicianship is exceptional, as is the bass of Ed Gaston and work of Alan Turnbull on drums, who round out the Don Burrows Quartet.
When the band was in America, they were asked what style of music the band 'actually' played. They simply said in reply that they played 'all sorts'. This ability to turn their hand to different styles was necessary to survive as professional musicians in Australia, and this versatility is evident on the album. 'Passing The Bach' has a classical influence (clip one) while tracks like 'So-Long-Samba' and 'Recuerdos' have clear Latin influences.
The album went gold in 1973, reflecting the wider audience the jazz sound was now reaching. It was also the year that Burrows was awarded an OBE and when he helped start a course in jazz at the Conservatorium of Music in Sydney. He taught the next generation of musicians to be well-rounded musicians, not just technical experts. 'Just the Beginning' was released on Cherry Pie Records, the label set up by Burrows and Graeme Rule to act as an outlet for Australian jazz musicians.
Bondi-born Burrows taught himself the clarinet, the saxophone and the flute at a young age and by his mid-teens was performing live, landing a job at 16 as the clarinet soloist with Jim Gussey's ABC Dance Band. Over the years he absorbed a variety of jazz and popular music styles, backing such people as Frank Sinatra and Tony Bennett and at one point being asked to join Count Basie's band. By the time he started playing with jazz guitarist George Golla, Burrows already had an enormous amount of expertise and experience under his belt and his music was representative of the mainstream style of jazz at that time in Australia.
Throughout his career Burrows toured schools in outback regions, including Aboriginal communities. He organised the students into ensembles and trained them, generously sharing his music with others.
The track list for 'Just the Beginning': Passing the Bach, Whenever, Façade, So-Long-Samba, Recuerdos, 6th Variation, Morning, The Set Up, Come What May, Just the Beginning.