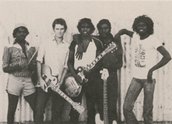 Jailanguru Pakarnu (Out from Jail) (1983)
Synopsis
'Jailanguru Pakarnu' ('Out from Jail') is a 12-bar rock-blues song by the Warumpi Band and the first rock song recorded in their own language. The song received widespread airplay and brought their language and culture to a wider audience.
Curator's notes
'Jailanguru Pakarnu' ('Out from Jail'), the first rock song in an Aboriginal language (Luritja), was written, recorded and released by the Warumpi Band in 1983. It has become, along with the band, an important part of Aboriginal and mainstream music history. The track is a 12-bar rock-blues song about getting out of jail. It introduced the Australian public to Aboriginal language through rock music and showed the importance of language as a means for cultural maintenance and survival. English is a second language in many Aboriginal communities, so the Warumpi Band developed their own distinct rock-blues sound, then sang about cultural and political issues relevant to them in their own language. The result is original and impressive.
The Warumpi Band formed in 1980 and originated in the Aboriginal settlement of Papunya in the Central Desert region, 260 kilometres west of Alice Springs in the Northern Territory. The band's name derives from the Honey­ Ant Dreaming site located near Papunya. The band members included George Rrurrambu Burarrawanga, the son of a Gumatj clan leader; guitarist and songwriter Neil Murray; bassist Sammy Butcher Tjapanangka, the lead singer's brother-in-law; and drummer Gordon Butcher Tjapanangka.
Lead singer George Rrurrumbu was a charismatic front-man, a cross between a black Mick Jagger and Elvis Presley, who brought a raw energy to the stage and helped win audiences over. The Aboriginal community loved the Warumpi Band for playing and singing about their everyday experiences, their culture, their land and their family: strong connections that distinguish Aboriginal bands from many mainstream bands.
In 1984, their debut album 'Big Name No Blanket' was released with the songs 'Blackfella Whitefella', 'Breadline' and 'Fitzroy Crossing' all receiving national airplay. 'Blackfella Whitefella' was also the name of the month-long tour with Midnight Oil through remote Indigenous communities in 1986. On their return from that tour they recorded the album 'Go Bush', which includes the tracks 'From the Bush' and 'Too Much Humbug'.
Neil Murray wrote 'My Island Home' for George and talks about George Rrurrambu's longing for country, a common theme in Indigenous contemporary music. It was first recorded by the band in 1985, then covered by Christine Anu, who had a hit with it in 1995, and then reached a world audience when she sung it at the closing ceremony for the 2000 Olympics. Other well-known Warumpi Band songs include 'Stompen Ground', which gave its name to the major music and culture festival.
As is the case with many Aboriginal bands, the balance between touring as a band, trying to crack the mainstream industry and the band members' cultural commitments was a hard balancing act. They managed it until 2000, when they broke up. George Rrurrumba (Kumanjayi Rrurrambu II Burrarrawanga) died in 2007, leaving behind an invaluable legacy as a music icon for his people. Neil Murray has an active career as a performer and song writer. Sammy Butcher and Gordon Butcher work actively with their community. Sammy Butcher works with and mentors young Aboriginal bands from his community including the Tjupi reggae band from Papunya (see Sammy Butcher, Out of the Shadows, 2004).