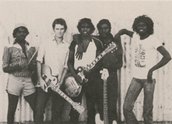 Jailanguru Pakarnu (Out from Jail) (1983)
Hi,

A more accurate rendition would be:

"This clip includes the opening four lines of the song. The lyrics in Luritja are:

Ngayulu kuwarri jailanguru pakarnu
Ngayulu kuwarri jailanguru pakarnu
Warumpilakutu ngayulu ananyi
Ngayulu kikiri ananyi kungka ngayuku partarni

The English translation is:

I just got out of jail
I just got out of jail
Now I'm going to Papunya
I'm in a hurry for my girl is waiting"

#1 from jhobson – 7 years, 9 months ago.
To comment on this title, you need to be
logged in
.

RSS – Subscribe to an RSS feed of comments on this title. (learn about RSS)