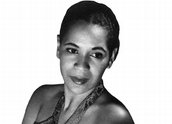 Georgia Lee Sings the Blues Down Under (1962)
Synopsis
After a successful career in London, Georgia Lee returned to Australia and recorded 'Georgia Lee Sings the Blues Down Under'. She became only the second female artist to release a long-playing record in Australia and surely the first Indigenous female singer to do so. This was also the first Australian album to be recorded in stereo.
Curator's notes
In 1962 Georgia Lee (Dulcie Lyra Rumia Pitt, 1922–2010), hailing from Cairns in far north Queensland and of Torres Strait Islander origin, recorded 'Georgia Lee Sings the Blues Down Under' for the Crest label in Melbourne.
During the Second World War, American troops created a mania for jazz in the cities of northern Australia, particularly in Queensland. Maintaining morale kept local musicians busy, including the Pitt sisters – Dulcie, Sophie and Heather. They toured Queensland as The Harmony Sisters, entertaining US troops in Australia.
After the war, Dulcie reinvented herself as Georgia Lee, singing blues and jazz in southern Australian cities. In the 1950s, Georgia Lee toured the United Kingdom on a contract with the Geraldo Dance Band and also worked with Nat King Cole during his tour of Australia in February 1956. She continued to perform after illness forced her to return to Australia.
The album contains some jazz standards, including 'Nobody Knows the Trouble I've Seen', 'Beale Street Blues' and 'Careless Love'. It is also noted for two Australian tracks, 'Down Under Blues' and 'Yarra River Blues'.