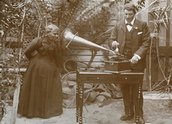 Fanny Cochrane Smith's Tasmanian Aboriginal Songs (1899)
Synopsis
These are some of the earliest recordings ever made in Australia, a sound recording of the traditional Tasmanian Aboriginal songs and language from this period. Sung by Fanny Cochrane Smith, the songs were recorded by Horace Watson in 1899 and 1903 on wax cylinders.
Curator's notes
Prior to British colonisation in 1803, there were an estimated 2,000–8,000 Indigenous Tasmanians or Palawa people living in the southernmost region of Australia. The period of conflict between British colonists and Tasmanian Aboriginal people in the early and mid-nineteenth century is known as the Black War. Years of disease, warfare and private violence decimated the Aboriginal population.
In 1833, George Augustus Robinson persuaded approximately 200 Tasmanian Aboriginal survivors to surrender themselves with assurances that they would be protected and provided for. They were moved to Wybalenna Aboriginal Establishment on Flinders Island. Into this environment of conflict and hardship Fanny Cochrane was born at Wybalenna in 1834. Her mother was Tanganutura of the Cape Portland people and her father was thought to be Nicermenic from Robbins Island.
In 1847 the 47 Palawa people who had survived Wybalenna, including Fanny, Nicermenic and Tanganutura, were sent to Oyster Cove, an old convict station near Hobart. The group were no longer perceived as a threat to the colony and were often dressed up and paraded on official engagements. However they refused to let their culture be quashed and continued to perform their traditional rites, hunt and gather bush foods and medicines, make baskets, dive for shellfish and carry out Aboriginal religious observances.
After the death of Truganini in 1876, Fanny Cochrane Smith claimed the title of the last surviving Tasmanian Aboriginal. Although this claim has since been disputed, the Tasmanian Government of the day recognised her claim and awarded her two land grants and a small stipend for the duration of her life.
In 1899 a concert was held in Hobart in her honour as the 'last Tasmanian', and she spoke of the quality of her people and their love of honesty and sang her traditional songs. The Royal Society in Hobart recorded these songs in 1899 and 1903. She performed all the Tasmanian songs she knew, some in Aboriginal languages, others in English. These songs are the only recorded example of Tasmanian Aboriginal songs and the only recorded example of any Tasmanian Aboriginal language. The photographs of her singing into the bell of a phonograph machine, operated by Horace Watson, are among the most striking in Australia's audiovisual history.
These recordings hold particular significance to the Tasmanian Aboriginal community. Not only is it a record of their ancient culture and heritage but many trace their ancestry back to Fanny Cochrane Smith. With her husband William, an English sawyer and ex-convict, Fanny had 11 children (among them a distant relation of composer Peter Sculthorpe). These recordings are thus records of family and a lasting memory of their ancestor.
The wax cylinders used to record these sessions are fragile artefacts and are lucky to have survived. They are now held by the Tasmanian Museum and Gallery with enhanced versions held by the National Film and Sound Archive.
In recent years, these recordings have assisted the reconstruction of Tasmanian Aboriginal languages revived through the palawa kani program, allowing the Tasmanian Aboriginal community to actively reestablished ownership over their language.