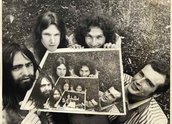 Eagle Rock (1971)
Synopsis
'Eagle Rock' is a classic rock song by Melbourne band Daddy Cool. Their first single, it was composed by lead vocalist Ross Wilson, who also plays guitar and harmonica.
Curator's notes
'Eagle Rock' was a massive hit when it was released in 1971 and, a generation later, can still pull people onto the dance floor. Remarkably, the song's success could not keep the group together and Daddy Cool disbanded less than a year later.
Daddy Cool was formed in Melbourne in late 1970. Ross Wilson, Wayne Duncan, Ross Hannaford and Gary Young were all members of the progressive experimental band Sons of the Vegetal Mother. As a side project, the four started playing as Daddy Cool, indulging their fondness for American doo-wop music and playing covers of 1950s tunes as well as songs penned by Wilson. 'Eagle Rock' was one of those songs. Both bands performed at the 1971 Myponga Festival. Daddy Cool played 'Eagle Rock' and it became apparent that the Daddy Cool side project was actually a lot more popular than its parent.
Produced by Robie Porter and engineer Roger Savage in Melbourne, 'Eagle Rock' was mixed in Los Angeles and released on Porter's Sparmac label in Australia in 1971. The album 'Daddy Who? Daddy Cool' which includes 'Eagle Rock' was recorded in two-and-a-half days. 'Eagle Rock' hit the charts in May 1971 and was the biggest-selling Australian record of that year. It stayed in the top 40 for six months and was number one for seven weeks nationally.
The video clip for 'Eagle Rock' contributed greatly to the song's success. Australia was one of the earliest adopters of the music video clip on television – due to necessity, as many promotional tours did not extend to the southern hemisphere – and 'Eagle Rock' was shown on many music television shows throughout the 1970s. Filmed in grainy black-and-white, the video cost $300 to make and is an early highlight in the career of director Chris Löfvén. It cuts to several Melbourne locations including a burger bar called 'Aussie Burgers', as well as shots of an early live performance of 'Eagle Rock' at the 1971 Myponga Festival. Five years after Eagle Rock, Ross Wilson made the music for Löfvén's film Oz – A Rock 'n' Roll Road Movie (1976).
The 'eagle rock' dance that features in the music video has its own story. From an early precursor to jazz that evoked echoes of religious trance – head back and arms outstretched, swaying and shuffling – the Eagle Rock is now the dance that goes with the song. Initially this involved variations on the original as interpreted by the band during performances and adopted by audiences. In 1982, however, the song was re-released and a new tradition appeared at the University of Queensland. When 'Eagle Rock' comes on in a student bar, students must drop their trousers to their ankles and shuffle around. The Student Union even has a policy that no-one can be ejected for doing it.
As a result of the song's initial success in Australia, Daddy Cool signed with an international label and toured overseas. 'Eagle Rock' provided an entry to the US market for the band, which had, until then, eluded Australian acts. While not a major hit in the US, the band toured the American west coast three times over the next year, laying the groundwork for Australian performers later in the decade. In the documentary Daddy Cool (1973, clip one), Ross Hannaford describes the 'cultural cringe' that operated in Australia at the time, when everyone thought they had to go somewhere else to 'make it'.
Despite huge success with 'Eagle Rock' and other hits such as 'Come Back Again', Daddy Cool folded in August 1972. The Melbourne band scene at the time was thriving, with bands forming and reforming as Wilson describes in clip two of Daddy Cool (1973). Daddy Cool reunited briefly in 1974 and memorably performed at the Sunbury Festival, then again in 2005 for a benefit concert for the 2004 Boxing Day tsunami. They now consider themselves a part-time band. Ross Wilson enjoyed consistent chart success in the first half of the 1980s with Mondo Rock. In 2006 Daddy Cool were inducted into the ARIA Hall of Fame.