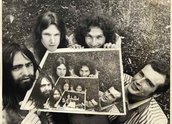 Eagle Rock (1971)
This video was shot in our fish n'chips shop we owned in 293 Clarendon st South Melbourne.
It was called "The Blue Dolphin"
I was 6 years old at the time and remember that day! We live in Greene since 1976 and have great memories of the Juke Box!

#1 from katanakis – 1 year, 6 months ago.
To comment on this title, you need to be
logged in
.

RSS – Subscribe to an RSS feed of comments on this title. (learn about RSS)