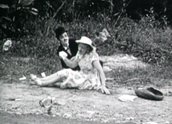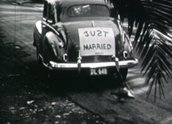 A Hero's Reward (1950)
Synopsis
An amateur family film that uses a Charlie Chaplin type character to create a comic story of robbery, rescue and love.
Basher Bill (Michael Bidencope), newly escaped from jail and in desperate need of money, robs Dolores (Lilian Fetherstonhaugh) on her way home from grocery shopping. Helpless and on the side of a road, Dolores cries for help. Her pleas are heard by Charlie (Cynthia Bidencope) who is sleeping not far away in the bushes. Charlie, equipped with cane-like umbrella, surprises Basher Bill and knocks him out, to the delight and relief of Dolores. He picks her up off the road, gathers her groceries and walks her back into town where they call the police (Robin Clarke). The policeman picks up Basher Bill, hauls him into the trunk of the police car and escorts him back to jail.
Meanwhile, Dolores falls in love with Charlie's fumbling heroics and his growing affection for her, and the two decide to marry. They, of course, live happily ever after!
Curator's notes
This is a delightful home movie production describes itself as a 'family farce'. The four main characters – Basher Bill, Dolores, the Policeman and Charlie – are played by members of the Bidencope family and their friend Robin Clarke. Peter Bidencope used a Keystone A3 16mm camera to film A Hero's Reward, and conceived the scenario himself (he had seen a number of Chaplin films).
Each of the family members contributes to the comic scenario. Peter's sister, Cynthia, possesses the lightness of step and expressionist face to carry off her Charlie Chaplin characterisation. It seems likely that this filmed skit evolved out of her fondness for playing this character. Their mother Lilian as Dolores is equally convincing in playing second-fiddle to Charlie.
The whole fourteen-minute story is shot and edited together very competently, with occasional intertitles used to move the narrative forward. It was filmed over a weekend in a number of interior and exterior locations to give each scene an authenticity and sense of place. The locations were all situated around the Lindfield area in Sydney where they lived. The roadside scene in clip one is just one example, but the family also created locations including a jail (which was filmed at their home) and a grocery store (filmed at their local store on the corner of Melbourne and Wellington Roads in Lindfield and since demolished). The costumes (Basher Bill's striped jail clothes, a policeman's outfit and Charlie's familiar suit and hat) also add believability to the story, and were thrown together from the bits and pieces the family could find.
Robin Clarke was a family friend of the Bidencopes and went to school with Peter. Robin (who plays the Policeman) went on to become one of Australia's first television cameramen and worked for HSV7 and the ABC in Melbourne for over 20 years. Clarke was also one of the first people to be accredited with membership of the Australian Cinematographers Society (ACS). The film was deposited with the National Film and Sound Archive by Mrs Barbara Clarke, Robin's wife.
For a similarly accomplished amateur family production, see Browne, George: Our movie memories 1928-1934 where the Browne family take on Shakespeare and Queen Elizabeth.