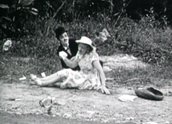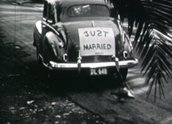 A Hero's Reward 1950
Filmmaker Peter Bidencope comments on 'A Hero's Reward'
Little did I realise when I made this film back in the fifties that it would ever end up in the National Film and Sound Archive as it was just a little bit of family fun to make. To use up a few hundred feet of old black-and-white 16mm reversal film (I think it was Gevaert and possibly some Kodak too), I just conceived the plot in my mind. My sister Cynthia, not long before, had dressed up in Charlie Chaplin attire at her school and this seemed to be well received at the time and she was quite happy to participate.
After this film had been made, my friend Robin Clarke (who acted as the policeman in the film) wanted to obtain a duplicate copy for his own use and this was arranged. This was indeed fortunate as it is this duplicate copy which came into the Archive from Robin's estate. My original degenerated markedly some years ago and became totally unfit for projection, so it was thrown out with other rubbish.
For several years after the film was made it was screened to family and various friends as well as at other small gatherings. Generally it was well received and accompanied by much mirth.
Now I am approaching 82 and Cynthia and Michael are in their 70s. My mother Lilian Fetherstonhaugh and Robin Clarke are now deceased.
Disclaimer: Any opinions, advice, statements, views or other information expressed by the creator/s (including in relation to any third-party content they submit to the site) are solely provided by, and the legal responsibility of, the creator/s and not of the National Film and Sound Archive. While the NFSA will monitor the contents of submissions from creator/s, we do not certify, endorse or verify the contents of any communication published on this page. The National Film and Sound Archive reserves the right to remove any comments from this page at its discretion; this reservation creates no affirmative duty in the NFSA, and failure to exercise this power shall not subject the NFSA to any liability of any sort. If you have any concerns about this content please contact editorial@aso.gov.au.