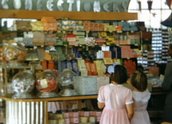 Gerakiteys: Greek Wedding Reception: Canberra Scenes (c.1954)
Synopsis
A colour home movie filmed mostly by Emmanuel Gerakiteys of the Greek community in Canberra in the 1950s. Footage includes a Greek bridal party and wedding reception, family life at home, scenes around Canberra, and part of the Queen's visit to Australia in 1954.
Curator's notes
These home movie scenes are from one of four compilations of colour 16mm footage of the Greek community in Canberra, filmed by Emmanuel Gerakiteys and his family between 1949 and 1955. The footage is a vivid record of Greek life in Canberra at the time and a rare example of home movie footage of migrant communities living in Australia in the 1950s. The home movie captures a lot of the scenes, events and celebrations common in this sort of private footage, but it also provides an insight into how the close-knit Greek community in Canberra lived at the time and the ways they contributed to community life.
Clip one shows the then well-known Blue Moon Café, housed in the Sydney Building in Canberra's Civic area. During the Second World War, Emmanuel Gerakiteys (who filmed most of the footage) ran another café before he sold it to his brother-in-law Peter Cassidy. In the 1950s, Gerakiteys ran the Blue Moon Café with Peter and his brother Spyros.